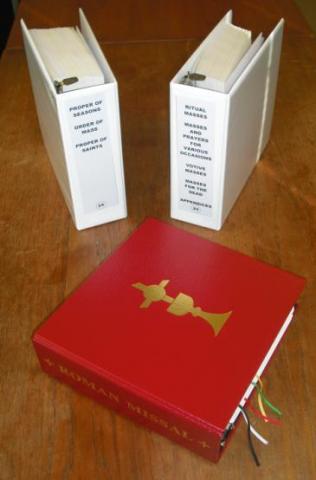 Through an agreement with the USCCB, the National Catholic Partnership on Disability will be able to offer large print formats of the Roman Missal, Third Edition to priests and deacons. We do not charge for the item but will send a recommended donation request along with the shipment. This donation helps us to cover the cost of the Roman Missal.
It is available on CD; print editions can be requested but cost us more to produce. Print editions are available in font sizes 24 and 34.
The documents on CD are on a pdf that only allows printing, not copying of text. Three font sizes are available on the CD; Font sizes 24, 34 and 44. 
Font Size 24 has 2,700 pages.
Font Size 34 has 4,800 pages.
Font Size 44 has 8,100 pages. (CD only)
About half as many sheets.
All three font sizes will be available on the CD. If you are requesting a print version please select the font size that you would like.