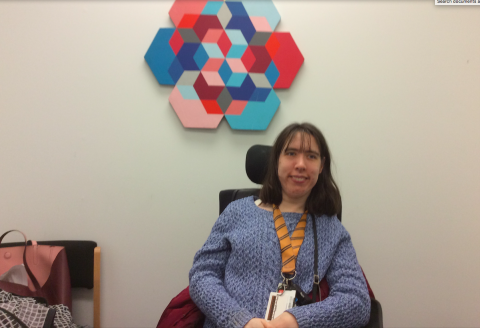 Becoming a more inclusive church family can be as simple as saying hi. Every church wishes to be welcoming to all of God's children, but the phrase "disability inclusion" may seem intimidating. As a person with a physical disability, one of the greatest blessings God has given me is the love of two faith-filled parents. As a kid I remember my father telling me, "You haven't really been to mass until you have shaken someone's hand." Whether we have disabilities or not, we all come to church looking to strengthen our bond with God and one another. I have gone to churches where my pew stayed empty because no one chose to sit with me. Sometimes I feel most isolated at church. It's wonderful to find a church where people will greet you with a genuine smile of welcome. I also really appreciate it when people ask if I want Holy Communion brought to me because sometimes figuring out the best way to get in line can be stressful. (Of course this is my preference. Many people prefer to process up to the altar and resent having communion brought to them.)
My family and I found a welcoming church in St. Camillus Parish in Silver Spring Maryland. I believe St. Camillus can serve as an example for other parishes looking to become more inclusive not only because of what the parish has done right, but also because of past mistakes they are trying to fix.
The Journey Towards Parish Accessibility
Let me start by talking about what St. Camillus has done right. A common misperception about people with disabilities is that we are people who others need to help rather than people who want to help others. St. Camillus values the contributions of people with disabilities. I have seen others with disabilities help in the parish hospitality and music ministries. As for my own personal experience, my faith began to blossom after I made friends in the St. Camillus youth group. In addition, the volunteers at the St. Camillus food pantry have helped me further my involvement with the community. I contacted the pantry explaining that due to using a power chair, I cannot get down the steps to the pantry. Instead of turning away my offer of help, pantry volunteers embraced my enthusiasm for combating food insecurity. As a result I have been helping write the pantry's weekly church bulletin announcement for years. 
Now on to the things St Camillus is trying to fix/change in order to be more inclusive. During my first few years at the parish I thought St Camillus was a welcoming place for everyone with disabilities. I was horrified when I spoke with the families of people with disabilities who did not find the parish to be welcoming. I shared what I had heard with the pastor and in response he talked to the congregation from the pulpit about inclusion. The pastor also supports a parish committee made up of people with a range of disabilities and others who care about making St. Camillus more inclusive and accessible. 
Parish Access Benefits Everyone
Most of the issues around inclusion stem from people's lack of awareness. It is also important to acknowledge that changing the way things are done can also inspire fear or nervousness. When I go to a church and people choose not to sit next to me in the pew I do not think they are purposefully trying to exclude me. People may worry about getting in the way of a wheelchair or of offending someone who is different from them. There may be missteps on the way to making all churches more socially inclusive, but it is still a journey worth taking. It is also important to remember that NCPD is here to help church communities become more welcoming. With your help and God's grace, creating a more inclusive church will not only benefit people with disabilities, but it will help everyone be part of a warmer and richer faith family!
Margaret Breihan lives in Maryland and is a graduate student studying Social Work at the Catholic University of America.
Related Disability or Ministry: