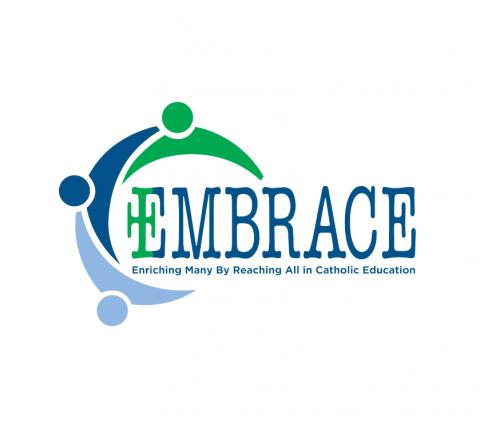 EMBRACE is an independent 501(c)3 organization started in 2016 to assist students with special needs in Catholic schools in the state of Kansas. This Association was conceived in 2005 by a group of dedicated, prayerful, and concerned parents of children with special needs, yearning for the opportunity for inclusion of their children in a Catholic school environment. EMBRACE's goal is to support a learning environment within Catholic schools which embraces all learners, values every child and sees God's Sacred Holiness in every unique individual.
In collaboration with the Catholic School Office of the Archdiocese in Kansas City, Kansas,  Embrace will:
Provide financial grants to schools that qualify and may be used to assist with the cost to hire Special Education Teachers or other resources requested. We encourage a conversation with our executive director to discuss your needs.

Facilitate community information nights and professional development opportunities based on needs identified. 

Partner with outside organizations to provide services to qualified schools, with the understanding that the hiring and supervision of the personnel remains the purview of the school principals

Provide awareness and general guidance to parents, as needed

Raise awareness and advocate for inclusive education
​Vision
A world where every child is embraced for their unique God given abilities and provided the Catholic education necessary to learn to their fullest potential and become the person God made them to be.
Mission
The Mission of EMBRACE is to provide children with disabilities the opportunity for an inclusive Catholic education by providing resources to support these children in their home parish school.
​
Charism
Love expressed in the essence of the Holy Family for all children to make accessible the experience and grace of attending their parish Catholic school, with the special support necessary to fulfill the dignity of life promised by Christ.