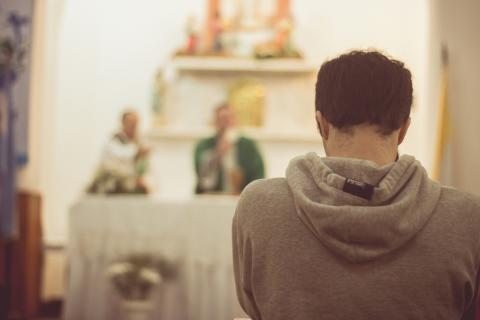 This NCPD blog post features an excerpt from NCPD's first course, "Celebration of the Sacraments with Persons with Disabilities" which will be launched in June! If you would like to be contacted when the course launches, sign up here. 
I'm willing to bet that some of you who will take NCPD's course on the sacraments may have some mistaken ideas about access to the Sacraments and those with disabilities. Some of those ideas might include that those who cannot articulate belief in the Real Presence cannot receive the Eucharist.
To debunk this idea, I would like to first of all assure you that even those who are not able to verbalize belief in the Eucharist can and should have the opportunity to receive this Sacrament, especially if there are other (nonverbal) ways for them to express their belief.
Remember, the sacraments (especially the Eucharist) are more than just doctrinal beliefs –they are encounters with the living God. When you are looking to assess Sacramental readiness, you should first of all (as the above documents state) err on the side of the right of the Baptized person with disabilities to have access to the Sacraments.
To illustrate how this can be possible, I want to tell you the story of a teenager named Patrick. Patrick lived in nursing facility, attending school off-campus, and returning home each evening to receive assistance with his extensive physical needs. Patrick could only say a word or two, and although he was in his late teens, his intellectual disabilities made him learn more at the level of a young toddler. Patrick also had physical disabilities and needed to use a wheelchair to get around and an electronic communication board to express his needs. But Patrick, with his shock of dark hair, and love of jokes (the staff saved up jokes for him, because he was so well known for loving them) had a spunky personality that shone through.
I spent a summer working with Patrick to prepare him to receive the Eucharist and Confirmation. Some days, Patrick was tired after a long day at school. Other days, he would humor my bad jokes with a little smile. But no matter how much we were chatting when we were on our way to catechesis, he would fall silent as soon as we entered the doors of the Eucharistic chapel in his assisted living home. I would leave soft music playing, and the air smelled fragrantly of beeswax and freshly washed altar clothes and all the familiar scents of a Catholic church. I would help him through the door in his wheelchair, and we would pivot to sit beside the tabernacle.
That's where we held our class sessions. I presented him with the doctrine of the Eucharist, in a rich, but accessible way. I also helped him prepare to receive by practicing with a small particle of unconsecrated host. As someone who had oral-motor challenges, he wasn't a fan of that. I wasn't sure what his facial expression would be when he received the Eucharist, but I knew from his hours with Jesus in the tabernacle, that they knew each other, and Jesus would understand if Patrick didn't respond well to the challenge of receiving a particle of His Body. If anything else, Patrick's willingness to persist (he was able to express displeasure with a situation, and he was always willing to keep working with me, and would humor my fledging attempts at catechesis) –it all demonstrated his love for Jesus.
The day of Patrick's First Communion arrived. In a silent and sparsely occupied chapel, during a peaceful Mass with the people who loved him most, Patrick receives the Eucharist for the first time. The priest said, "Patrick, the Body of Christ." Upon receiving, Patrick momentarily looked startled – and then he smiled. The smile that covered his face was radiant, bigger and more joy filled than any smile I had ever seen before on his face (or possibly anyone's face). Yet, he couldn't articulate the teachings on the Eucharist. He could only live the relationship. In moments where I have had fleeting doubts about the Eucharist – I remember the witness of Patrick's encounter of Christ in this Sacrament. His radiant joy deeply impacted my own faith.
Providing access to preparation for and reception of the sacraments for persons with disabilities is not just some service we provide for them. When persons with disabilities receive the sacraments (even when their witness is not as visible as Patrick's) their encounter with God strengthens and builds up the Church. We need them.
But also –God longs deeply for them and deeper union with them, as He does with all of us. And He desires sanctity for those with disabilities, just as He does for those without disabilities. He wants to make us saints.
Our focus, then, needs to shift from a question of, "What do we have to do?" for sacramental preparation and access to, "How much can we offer, to allow this person a deeper encounter with God, and to make a way for God to reach this person who He longs for union with?"
Without those baptized with disabilities receiving the Sacraments, the Church suffers. And they, without the strengthening of love and grace that they can receive in the sacraments, are being deprived of the union with God that He longs to have with us all.
Let this be the motivation for all that you do.
Written by Michele Chronister.