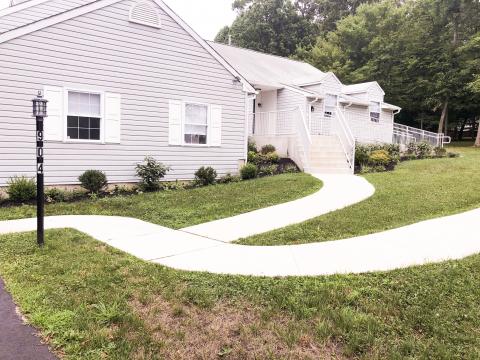 St. Philomena Cottage, Archdiocese of Philadelphia
"An archdiocesan home for kids with disabilities has opened a new door in its pioneering history, dedicating its first community residence for three clients who are now adults.
A small group of staff and supporters from St. Edmond's Home for Children gathered Oct. 23 for the blessing of St. Philomena Cottage by Philadelphia Auxiliary Bishop John McIntyre.
Located in Newtown Square, the fully renovated house (named for a traditional patron of youth and children) meets the accessibility standards set forth by the Americans with Disabilities Act (ADA), with wide doorways, a large bathroom, a concrete wheelchair ramp and a lift from the garage to the living area.
For the three young women now living at St. Philomena, the design, and the house itself, balance the need for accommodation and independence – while addressing a critical gap in disabilities support, said Denise Clofine, administrator of the Rosemont-based St. Edmond's." 
- Gina Christian, Catholicyphilly.com. 
Related Disability or Ministry: