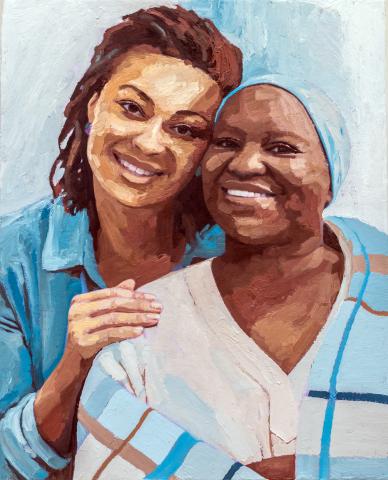 Caring for others, whether we are formal or informal caregivers, can be challenging and difficult.  Although there are many moments of joy, and many gifts to be received, there are also many trials and tribulations to be endured.  Currently, we have seen these caregiving challenges augmented greatly while living through a worldwide pandemic.
Making a commitment to explore our feelings often and be honest with ourselves is something that can help us to become better caregivers, and also better friends to ourselves.  Beloved spiritual writer, Henri Nouwen, has left us with many books filled with pearls of wisdom on not only the spirituality of caregiving, but also how our journeys of vulnerability and weakness can be sources of strength and holiness.  Henri reminds us that "God becomes most present when we are most human."[i]
Often, when we experience feelings such as frustration, anger, resentment or grief, we compound that by adding guilt for feeling the way we do!  Perhaps sharing a few thoughts and ideas can help to work through these difficult emotions. 
Feelings are not good or bad – they just 'are'.  We cannot control our feelings, but we can recognize and acknowledge them.  We all need a safe person to talk to about how we are feeling.  Many times, we have good reason to be frustrated or angry!  Trying to reflect on the root cause of these feelings and sharing them with a trusted friend, can help us to come up with ways to turn the energy of our anger into something productive or proactive, so that the situation might become less difficult.
It is important to give your emotions motion, and not keep things bottled up inside.  Try not to suppress either your frustrations or your needs, since doing so can lead to even more suffering for yourself and for others.
The Psalmists have taught us much about expressing our feelings, and often there is a psalm to pray with that can describe what is happening in our heart.  The book of Lamentations is also a good place to spend time reflecting.  After all, our society has lost the ability to lament!  We look for a quick answer to everything.  Often it is only after spending time in lament that we can truly come to hope and peace.
New research into the role of self-compassion helps us to recognize that often, we don't treat ourselves as well as we treat our friends![ii]  Learning how to be gentle with ourselves and manage our expectations can help immensely.  Many times, it is not others who put expectations on us, but we ourselves who do so.  We feel we have to be everything for everyone, when in fact, we are only human and can only do so much in one hour or one day.  Jesus is our role model for caring for ourselves.  In so many gospel stories, he seemed to know when it was time to pause.  Although not everyone was healed at the end of the day, he always made time to return to the garden to rest and pray.
Many times, we look at ourselves and we can only see our faults and weaknesses.  We see how tired and frustrated we are and have a hard time believing we are loved – by others or by God.  So many of Henri Nouwen's writings were focused on helping us to see ourselves as the beloved of God – God's child - the one who God loves more than we can ever imagine.   If we believe this wholeheartedly, we can live out of the knowledge that God loves us unconditionally, and is pleased with our care and compassion for others, despite our weaknesses. 
"Humility is the grateful recognition that we are precious in God's eyes and that all we are is pure gift.  To grow beyond self-rejection we must have the courage to listen to the voice calling us God's beloved sons and daughters, and the determination always to live our lives according to this truth."[iii] Living out of love and not out of fear, can make all the difference.
"When we are asked to listen to the pains of people and empathize with their suffering, we soon reach our emotional limits.  But God's compassionate heart does not have limits.  God's heart is greater, infinitely greater, than the human heart.  It is that divine heart that God wants to give to us so that we can love all people without burning out or becoming numb."[iv]
To find out more about caregiving resources, or to enjoy a complimentary daily reflection from Henri Nouwen in your inbox, visit www.HenriNouwen.org
---
Related Disability or Ministry: