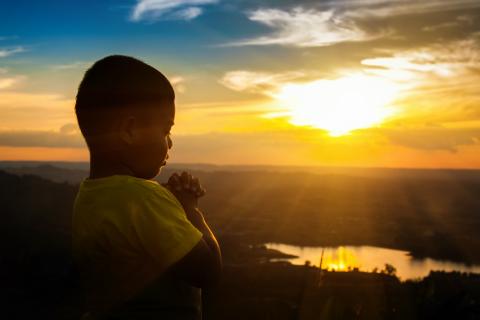 Resources from Catechetical Publishers: 
Loyola Press
From all of us at Loyola Press, our thoughts and prayers are with those affected by the COVID-19 virus. As a Catholic publisher, our mission is to provide you with the resources you need to facilitate transformative experiences of God for the children and families you serve.  
In light of the current situation, we would like to remind you that as a Finding God customer, you have numerous, free, at-home family resources available, including at-home, parent-led lesson plans.  
We understand that interruptions in faith formation due to unanticipated events such as school or parish closures can impact children's spiritual development as well as their need for stability and consistency. Our resources can help children stay engaged in their faith journey, provide them valuable learning experiences, and offer continuity in Christ during this challenging time. 
Parents can always access at-home resources at www.findinggod.com/family. 
At-Home Editions: These guides allow parents to conduct catechesis with their children in the home. For families with children in multiple grades using Finding God, utilize this Parent Quick Guide.
Interactive Session Reviews: Session reviews allow children, parents, and instructors to gauge learning objectives. Results can be emailed to a teacher or catechist along with student questions. 
Study Guides: Single page study guides outline important faith topics in each session. 
Raising Faith-Filled Kids: For parents who may not have the time or confidence to teach a full lesson, this resource provides background on the session and encourages parents to discuss faith topics with their children. 

 

If you find that your students are without their Finding God books and are in need of additional access to online resources, including digital textbooks or online assessments, please reach out to your Educational Consultant or call customer service at 1 (800) 621-1008. 

Please join us in praying for all those affected by the coronavirus and all those working to contain it. 

God bless you, 
Loyola Press
 
Sadlier 
As we all adapt to the changing environment arising from the COVID-19 outbreak, our prayers go out to the people who have been affected by these challenging times. We are thankful to the researchers, doctors, and healthcare workers all around the world who are on the front line working to contain this virus and keep our communities safe.
William H. Sadlier, Inc. is committed to ensuring that children always have the right educational materials and resources they need for faith formation.
If your school or parish is shifting to an online learning approach, Sadlier is providing, free of charge, eBooks for the Sadlier print programs you are using for the remainder of the school year.
To access your FREE eBook Site License for Sadlier Religion programs, log in to Sadlier Connect at:
Username: SadlierStudent
Password: ReadyToLearn!
Once logged in, students will need to select the program and grade. The following programs are available as eBooks:
We Believe, Grades K–6
Creemos, Grades K–6
We Live Our Faith, Grades 7–8+
Believe Celebrate Live, Director's Resource Guide
Creer Celebrar Vivir, Director's Resource Guide
With Jesus Always, Grades 1–3
Our Catholic Faith, Grades 4–6
Nuestra fe catolica, Grades 4–6
One Faith, One Lord, Grades 7–Adult
Una sola fe, un solo Señor, Grades 7–Adult
We Believe and Pray, Grades 4–6
Creemos y oramos, Grades 4–6Confirmation: Inspired by the Spirit, Ages 12–15Confirmación, Inspirados por el Espíritu, Ages 12–15

We are here to help you. If you need:

As a reminder, you already have access to online program-specific content on Sadlier Connect at www.Religion.SadlierConnect.com to support online faith formation at home. You can also find more helpful free Catechetical online resources, which are not program specific, at www.SadlierReligion.com/resources.

We hope this will help as you address the need to temporarily transition to online learning.
Live morning prayer series: Join Deacon Matt Halbach Monday - Friday at 9:00 AM EST for a ten-minute prayer service. Access this series through the Sadlier Facebook page. 
Our Sunday Visitor 
Our Sunday Visitor has  offered resources from "Alive in Christ" for free during this difficult time for families. To access these resources, please follow the instructions below. 
Digital Books and Home Lesson Plans
Vivos En Cristo Digital Books and Home Lesson Plans - Vivos en Cristo Libros Digitales y Lecciones en Casa 
Digital Books for Children and Parents 
Adaptions for Diverse Learning Needs
Pflaum
Pflaum has offered the following resources to supplement your parish or diocese's two-year sacramental preparation program.
Special Learning Needs Guide: Together in Jesus: First Eucharist 
Click here to access the suggested accommodations for using Together in Jesus: First Eucharist with children with special needs.
Special Learning Needs Guide: Together in Jesus First Reconciliation
Click here to access the suggested accommodations for using Together in Jesus: First Reconciliation with children with special needs.
Music CD and Lyrics
Here are the song lyrics for the new Together in Jesus music collection for Reconciliation, Confirmation, and Eucharist, featuring songs by well-known Catholic composer John Burland.
To purchase downloads of the music, click here.
To order the music CDs, click here.
These videos will help bring the message of the lesson to life. Play them in the session or share links with children and parents to extend the lesson in the parish or at home.
Confirmation/First Eucharist Video Links