Why buy an Ad?
Purchasing an ad in the Celebration Dinner Program Book highlights you or your organization's commitment to ensuring the full participation of persons with disabilities in the life of their local parish and to help launch NCPD into a new phase of its long history as a voice for those who are often excluded or marginalized. It is also an opportunity to offer a tribute to Carl Anderson, Supreme Knight of the Knights of Columbus, or Janice Benton, NCPD executive director, who will be retiring following the event. 
What types of ads will be included? 
Business advertisements 
Tributes to awardee Carl Anderson, honoree Janice Benton and other persons who have contributed to the mission of NCPD in implementing the Pastoral Statement  
Reflections or pieces of artwork that relate to the Pastoral Statement  
Ministry ads that reflect the mission of the Pastoral Statement 
Requirements 
Please submit graphics that are 300 dpi.  (jpg, png or tiff preferred)
Color available for all ads  
The program book will be 8.5" x 11" 
Ad Submission/Deadline: 
Please purchase ad through registration page and email the ad copy no later than September 30th to: 40thAnniversary@ncpd.org or mail it to  
415 Michigan Avenue, N.E., Suite 95, Washington, DC 20017-4501 
My payment will be: 
 Paid online at the time of registration (call NCPD if online payment is not possible for you.
Please email ads by September 30th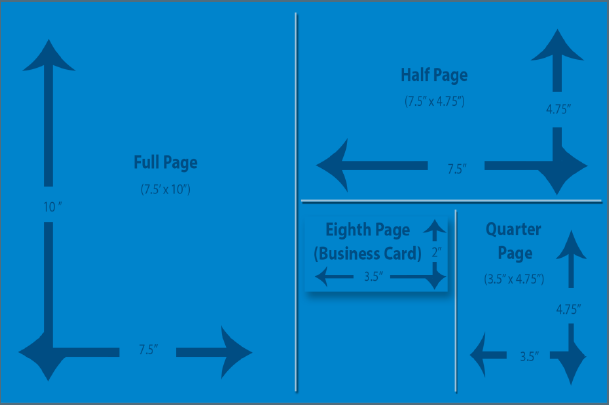 Pricing and Dimensions: 
Full Page ………  $500   (7.5" x 10") 
1/2 Page ………  $250   (7.5" x 4.75") 
1/4   Page …   $125   (3.5" x 4.75") 
1/8 Page ……  $75  (3.5" x 2")