Year of the Priest
Stories on Priests Related to Disability.
Pope Benedict XVI has declared a "Year for Priests" beginning with the Solemnity of the Sacred Heart of Jesus on June 19, 2009. The year will conclude in Rome with an international gathering of priests with the Holy Father on June 19, 2010. We will be highlighting stories of the positive impact that people with disabilities have made on priestly vocations, as well as stories about priests with disabilities who serve the Church with their gifts.
Year for Priests: Fr. Rick Curry, S.J.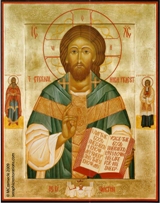 Jesuit Brother Rick Curry has a new vocation. He's now Jesuit Father Rick Curry. Becoming a priest at age 66, as he did Sept. 13, 2009, might seem to be a"late vocation," but the term doesn't apply in a typical sense to Father Curry.
In 2002, after Father Curry had spent 27 years as a Jesuit brother working with his National Theatre Workshop of the Handicapped, the workshop administrators were asked to bring returning wounded vets from Afghanistan and Iraq to begin a writers' program so that they could tell their own stories and, as Father Curry told Catholic News Service, "open up the floodgates of post-traumatic stress."
"It was during that time that I began to be asked by the Wounded Warriors (the eventual name of the program) to actually hear their confession. I told them I was a Jesuit brother and not ordained. I told them that so frequently that I began to suspect there was some invitation there," Father Curry said. "I was so happy as a Jesuit brother I never thought of it (priesthood)."
Fr. Curry was born without a right forearm, earned a PhD in theater from New York University, and he's even played a psychiatrist on the television detective series "Monk." But he is perhaps best known as the founder and artistic director of the National Theater Workshop of the Handicapped
Click here
a 33-year-old nonprofit theater arts training institution for persons with physical disabilities, currently based in New York City and Belfast, Maine.
Seven years ago, Curry reached out to disabled combat veterans, especially amputees, and began the Writers' Program for Wounded Warriors, holding workshops for soldiers to tell their stories in dramatic monologues and in the process to begin to heal the psychological, emotional, and spiritual wounds of war.
Because of his own physical disability Curry says he had to seek special permission from Rome before he could be ordained a priest after more than 40 years as a Jesuit brother (he joined the Jesuits in 1961 at the age of 19). When veterans "started coming to me and asking me to be, in fact, responsive to them as a priest, it profoundly affected me," he recalls. He realized, he says, that "they're asking for a disabled priest." This past fall, as a new chaplain-in-residence at Georgetown University, Curry launched an Academy for Veterans to minister "in a sacramental way" to those who have lost limbs and are suffering from post-traumatic stress disorder.
Curry hopes to work with disabled veterans from military bases and hospitals in the greater Washington area and to expand his writers' program. He is incorporating the Georgetown University community into his plans and has set up both a mentoring program with Georgetown undergraduates and a program for law and business students to help disabled veterans with legal and financial matters.
Fr. Curry is working with NCPD to develop and provide a model retreat for veterans that can be duplicated in parishes across the United States. He currently describes that his mission is to let wounded veterans know there is life and joy after disability.
Fr. Dave Duffeck

Some people see Fr. Dave Duffeck's quad cane as a symbol of his disability. But Fr. Duffeck, who suffers from a permanent spinal cord injury, sees the four-footed cane as a bridge.
The cane, which he uses to help him walk, bridges the distance between him and his parishioners, he said, especially those who also suffer from physical or emotional challenges.
"They see that you struggle and they know you understand their struggles," he said. "It helps me in my pastoral work very much. That's the blessing." More…
Priest Turns His Disability Into An Outreach Opportunity
(The Catholic Diocese of Green Bay, The Compass March 17.)(Photo by Sam Lucero | The Compass)
FR. MIKE JOLEY
Father Mike Joly was named pastor of St. Joan of Arc Parish in Yorktown, Virginia July 1, 2009. Bishop Dilorenzo installed him as pastor at the teeming 11:00 a.m. Mass Sunday, November 8 of the same year. Fr. Mike has enjoyed three and a half years in Campus Ministry at the College of William and Mary and serves various needs as director of retreats, parish missions, youth rallies and conferences. Fr. Mike also happens to be totally blind and has been since he was five years old.
Father Joly says his story is not about success, but about hope. "Hope is something divine," he said in an interview with the New York Times after he was ordained 15 years ago. "The only thing I am to anyone who's interested in listening is a committed sign of hope. Look at the power of hope." Fr. Mike said. At his ordination, he prayed from a sacramentary, a book used by priest during Mass, that he created with a computer and a Braille printer. Joly had set out to reproduce some of the essential works for use in Catholic worship in Braille, for himself and other blind priests. The priests he knows of became blind after they were already ordained.
Father Mike grew up in Cumberland, Rhode Island, one of ten children reared by Armand Joly, his father, a police officer and salesman. Michael developed a brain tumor at age five and the surgery to remove the growth left him blind.
"Our father basically gave Mike a choice between feeling sorry for himself or doing something with his life," said his sister, Nancy McNally. It turned out the challenge for the family was not to spur Mike to action, but to keep him from going too far and getting hurt. He went bicycling, horseback riding, water skiing and learned to play the guitar, piano and organ. He even began composing music. He attended a school for the blind, for one year to learn enough Braille so that he could attend a regular school. But, he insisted on not going to a "special school for the blind." Consequently, his Dad pressed to have Michael "mainstreamed" in the public school system. The young newly blind child was among the first handicapped children to enjoy that opportunity in the state of Rhode Island. .
"He never considered himself handicapped and he always wanted to do what anyone else could do," Ms. McNally said.
At age 17, Mike began taking his Catholic faith seriously. A year later he was hired as choir director for Sacred Heart Church in Woonsocket, Rhode Island. In his senior year at Rhode Island College, Mike responded to the increasing pull toward the priesthood. He received a bachelor's degree in human resource management, and graduated magna cum laude. He continued his education at the Dominican, Providence College where he worked in the area of philosophy.
Despite the fact that no blind seminarian had ever been received into seminary domestically, Fr. Joly gained entry to St. Mary's Seminary and University Baltimore, Maryland in 1990 where the then current seminary rector, Fr. Robert Leavit S.S., welcomed the young man and trusted his vocational call. Fr. Mike graduated in June of 1994. "I had a conviction that this was an attainable goal and this was God's will," Father Joly explained. Relying on methods both ancient and modern to get through college and seminary, he also had people read to him. Eventually he acquired the technology that allowed him almost unlimited reading – a computer scanner and software that can read a printed page out loud.
Father Joly admits that modern technology has made a big difference in his life, but he strongly believes what has made his vocation possible is God's will.
HIS GOALS for future ministry in the Diocese of Richmond include serving the parish he loves and using any gift the Lord has given him to build up the Body of Christ. He will need to draw on all technological advancements to transcribe the newly revised Sacramentary (altar book) and Lectionary )Mass readings) into Braille. He is planning to record a C.D. containing some original Christian music and some covers from Christian artists who have inspired him. He continues to respond to invitations to bring the Gospel message to a wide variety of Catholic and non-Catholic venues in the U.S. "Where hope inspired my priestly vocation and then brought it to fruition, I believe it's gratitude which fuels the ministry I am privileged to engage now."
This Pastor of St. Joan of Arc feels wonderfully bless to have the people around him who permit him to "see" God.
"The people of my parish are reflections of the living gratitude that compels my ministry to them. They look beyond my blindness and support the vision I strive to make an even more beautiful reality in the parish that is now my home."
Fr. Wayne Ball's Story
I was born in Danville Virginia in 1960, to a girl who had just finished the 10
th
grade, as the "non-identifying information" available to me reports. As an adopted child, I spent a good portion of my life asking one question: "If I had been normal, would my mother have kept me?" It was only later in life I came to understand that her giving me up for adoption was both a great act of love, and divine providence.
I passed through several foster homes, until I arrived at the home of John and Marcia Ball. I was born with Cerebral Palsy (CP), a condition that was poorly understood in the early 1960s. The original plan seems to have been that I would spend some time in foster care and then, as was still common in those days, be institutionalized. All of the experts consulted had concluded two things: 1) This child will be retarded 2) He will never walk.
Marcia Ball was not a woman who easily took no for an answer, and once again the hand of divine providence was at work, and took her to Dr. John Eggleston, a local pediatrician. He believed that you could look in my eyes and see that I understood everything, even though I lacked the motor skills to respond. By this time, with regular feedings and almost no movement, I was exceedingly overweight. Following his recommendation I was put on a diet, and what would be years of physical therapy began. My parents have told me of the night my mother heard my father scream and ran in the kitchen to find me standing freely without holding on. I was three and a half.
The "therapy" of that time now seems quite primitive, but it was what they knew: forceful stretching of the muscles against the spasticity, and the wearing of braces. The worst ones had the clear plastic heels and double laces. There was a set of laces under the tongue and one over the tongue of the shoes. We would force my foot flat (the clear heal of the shoe allowed you to check this) then tie the inner laces to hold the foot flat, then put the tongue and outer laces of the shoe in place. Lastly the heavy metal brace would be strapped around your legs. The physical therapy was worse than the braces. It seemed to my child's mind, like daily torture. I would cry and my mom would cry, but every day without fail she stretched and stretched me. I must be brutally honest and admit that I was well into adulthood before I was able to let go of my anger at my mother and God, and realize that this treatment was the best they knew at the time, and without it I wouldn't be where I am today.
When I entered school there was no Americans with Disabilities Act. My mother was my personal ADA.
She would often battle my well-intentioned but over-protective teachers. I can still hear her telling me, "Don't ever let anyone tell you what you can't do." Throughout my life God always seemed to send the right people into my life.
In the fifth grade (1970) our school district began busing some of us white children to what had been the "colored" elementary school. There I had my first African-American teacher, and the first teacher I could truly trust, Mrs. I. A. Williams. Disabled children learn early in life not to trust appraisal or approval from adults. Even when you know you have done something poorly, adults tend to tell you you've done well. Mrs. Williams was the first teacher who truly treated me as normal: no pitiful looks, no sympathetic tone, no lowered expectations. On the contrary, in a voice that spoke from experience she told me, "In this world you're going to have to work twice as hard to get half as far." Finally, I knew I truly earned any good grade I received from her.
Academics were where I came alive. While other children liked to play sports, the mind was my playground: science, math, and most of all language.
Whether it was Debate, Forensics, Drama, or Spanish, I found a world where I could win. This was my level playing field. One of my funniest memories was of a friend who overheard a judge at the State One-Act Play festival commenting on how amazed he was that the actor playing the guy with the limp never once broke character. I wonder what that judge thought when I limped forward to accept the trophy.
In college, I was particularly blessed, as God brought Dr. Bernice Waddell into my life. She held a doctorate in Romance Philology and pushed my linguistic skill to its limits, not only teaching me what she knew, but finding me a Russian tutor so I could learn a language from a different linguistic family.
Through it all, the one constant was God. I was blessed with an abiding sense of the presence of God. I grew up Baptist, and still have the bible storybook from which I would read. Two stories in particular (the story of Moses being placed in the basket, and the story of the crucifixion) I read over and over. I can still recite the opening lines of the crucifixion story. My cousin, a Baptist minister, said at my father's funeral that he always knew I was "called to the ministry." He just had no idea it would be in the Catholic Church. In 1980 I entered the Catholic Church and in 1984 entered Theological College of the Catholic University of America.
In college, and later in the seminary, I tried to distance myself from the world of disability. I can now look back and see that I was still over-compensating. There is a fine line between being pastoral and being patronizing, and with the best of intentions some of the faculty and other students would often cross it. Once again God sent me the perfect person to balance my life: the only black student in the seminary, Anthony Chandler. Both of us dealt frequently with misconceptions and stereotypes. Some people assumed he must like gospel music because he was black, and some confused CP with Multiple Sclerosis, assuming my condition was degenerative and terminal. Anthony and I were able to share our frustrations and through humor tried to desensitize some of those who were overly "pastorally sensitive to our special needs." To this day, he can still do the perfect imitation of my walk.
Nine languages (Spanish, French, Italian Portuguese, German, Russian, Latin, Farsi and American Sign) and two graduate degrees later, as I approach 50 I think I have finally come to point in my life when I no longer feel compelled to prove that my original diagnosis was wrong.
Once again I saw the hand of God at work, as I was brought to what was then called the National Catholic Office for Persons with Disabilities. Their recently created office was housed in our basement at Theological College, and I began to volunteer with them. Over the years, I have spoken at several national and diocesan conferences, and once at the November USCCB meeting. In those same years I came to know and work with Fr. Gerard Trancone, campus minister at Gallaudet University (the only university for the deaf). I was there in the days when the cry rang out, "Deaf President Now," as students protested in favor of a president who was deaf like them. Through Fr. Gerry and the community at Gallaudet, I was introduced not only to sign language, but also to Deaf culture.
I was ordained a priest in 1989, and through the generosity of a woman who had heard me speak at a conference, I traveled to the Shrine of Our Lady of Lourdes. This would also be the name of my first parish in Richmond—a church with an established deaf catholic community. Again God shows his presence and sense of humor.
This year I celebrated the 20th anniversary of my ordination and can still say without a doubt I love being a priest, and have come to appreciate the gift of being a disabled priest. So often people with disabilities are only thought of as a group to be ministered to. It is good to invert that reality from time to time. I remember the first mass I concelebrated with Cardinal Francis George of Chicago (who lives with the aftereffects of polio). I thought, as we both limped down the aisle, that the church has come a long way. I have found over the years that parents with disabled children and the children and young people themselves, often need someone to talk to who has walked the road they are on. Perhaps in the next 20 years we will see Catholics with disabilities so integrated into every level of the church's life and ministry that it is no longer a novelty to be celebrated, but an ordinary part of life.
---
---
---
---
Vocation Impact Story: Cardinal John Foley
One event that was "critical" in his journey toward priesthood was doing volunteer work and teaching catechism to children with intellectual disabilities. In an interview with Zenit, he recalled: "I had six children in this school to whom I was teaching catechism, and the Sister Superior came in and said, 'Well, children, do you like Mr. Foley?' 'One boy answered, 'No! No! We love Mr. Foley!'' I thought that was a marvelous distinction for a mentally handicapped boy to make. She said, 'Why do you love Mr. Foley?' He said, 'We love Mr. Foley because he teaches us about Jesus.' And I thought, there is nothing more important in life than teaching people about Jesus and bringing Jesus to them. That solidified my vocation for the priesthood." Cardinal Foley, age 74 is now living in Rome. He was born in a suburb of Philadelphia. During the Year for Priests, the former president of the Pontifical Council for Social Communications, and now the Grand Master of the Equestrian Order of the Holy Sepulcher of Jerusalem, considers that relationship and its impact on his vocation as providential.
Brother Rick Curry, S.J., PhD (Artistic Director)
Brother Rick will be ordained to the priesthood at Holy Trinity Church, Washington, DC at 7:30 pm on September 13, 2009. (The Most Rev. Timothy P. Broglio, Archbishop for Military Services, will preside at the liturgy.) A Jesuit Brother, he is disabled himself with the absence of his right forearm and hand. Br. Rick felt called to help wounded veterans returning from action in the Gulf wars and started retreats and the Wounded Warriors Writing Program. For an article with pictures of that program, go to the website of the New York Province of the Society of Jesus.
He led last spring's Ignatian spiritual retreat for veterans, hosted by the Washington Theological Union, and co-sponsored by NCPD, Walter Reed Transition Brigade, Archdiocese of Military Services USA and the Archdiocese of Washington. Br. Rick works with military chaplains on addressing post-traumatic stress syndrome using the tools and concepts of Ignatian spirituality.
Brother Curry, a native of Philadelphia and a Jesuit since 1962, is the founder-director of the National Theatre Workshop of the Handicapped in New York City and director of the Jesuit Academy for Veterans at Georgetown University in Washington, D.C. He has also published books on Jesuit bread making and soup making and founded a bakery to support people with disabilities, and works with military chaplains on post-traumatic stress syndrome and spirituality. Let us flood him with prayers as he continues in ministry and in witness to the gifts brought to the Church by people with disabilities.
Fr. Thomas Rozman
Ginny Duncan, Director, Office of Ministry with People with Disabilities, Diocese of Harrisburg gives us our Year of the Priest feature today. She brought to our attention a story about a priest from her diocese, Fr. Thomas Rozman, who is learning American Sign Language so he can better serve people who are deaf. The article she shared with us also mentions Father Michael Depcik from the Archdiocese of Chicago, who is deaf.
"The Harrisburg Diocese has a focus on including Catholics in worship and parish life, Father Rozman told Catholic News Service. About two years ago the diocese established an Office for Ministry with People with Disabilities. Currently, most of the interpreters are laypeople. The priest said he was not aware of other priests in his area learning sign language.
In Harrisburg in June, Father Michael Depcik, an Oblate of St. Francis de Sales who is himself deaf and ministers to deaf Catholics in the Archdiocese of Chicago, celebrated Mass for the deaf and hearing communities at St. Patrick Cathedral.
The special Mass further inspired Father Rozman to continue his own efforts to communicate better with Catholics who are deaf. He said he learned 96 percent of Catholics who are deaf have never been to Mass -- a statistic that both saddened him and encouraged him to create change."
Click here to read the entire story: Catholic News Service story.
(Fr. Mike signs Mass and Fr. Thomas gives verbal interpretation.) (Photo taken and provided by Emily Albert, Catholic Witness, Diocese of Harisburg. Permission for NCPD to use in the E-News, granted)
Fr. Depcik has become a well known minister, advocate and presenter as he serves in the Archdiocese of Chicago and well beyond. Fr. Mike hosts a website called Fr. Mike's Kitchen Table Website, www.frmd.org, that provides resources in American Sign Language (ASL). Go to YouTube - About Fr. MD's Website where Fr. Mike tells about his background and the purpose of his website. His website is unusual in that all of the "articles" are presented in sign language. He provides links to other sites, homilies for Sunday Masses, interviews, religious instruction, inspiration, Q & A, and much more...all in ASL.
In a June 27, 2009 article from the Harrisburg Patriot News, a description of Fr. Mike in action, leading a sign-language retreat in Harrisburg for people who are deaf, is related. The young, 39 year old priest, is described as being one of only 6 deaf priests in the U.S. The mass announced in the article became a powerful inspiration for Fr. Thomas Rozman the day he attended. Read more about that day by clicking Deaf Priest Leads Sign Language Retreat.