E-News Feature Stories
E-News Feature Stories
June 2011
Bishops' Approved Statement on Physician-Assisted Suicide Helps to Protect Persons with Disabilities

At their Bellevue, Washington, spring meeting the Bishops voted on their new statement opposing the legalization of physician-assisted suicide, like in the law passed in 2008 in Washington State.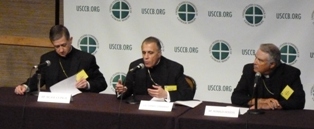 The document, To Live Each Day with Dignity, reviews longstanding Church teaching on the life and dignity of the human person, and how this teaching relates to a new threat to life, physician-assisted suicide, a real threat to persons who are vulnerable such as those with a disability. It marks the first time the full body of bishops has issued a statement devoted to this issue.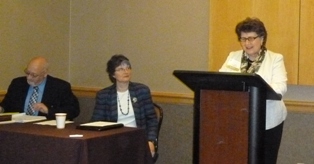 We are proud that NCPD Board member Dorothy Coughlin presented her views at the USCCB's press briefing following the vote. Her comments and the NCPD press release are on the front page of www.ncpd.org.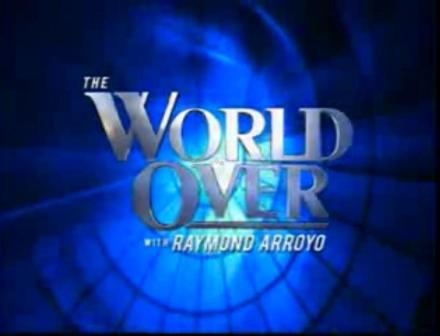 On the same evening, NCPD Board Chair, Stephen Mikochik, was interviewed about the unique challenges this kind of state legislation poses to persons who have a disability, on the national television news show, EWTN's
The World Over
, hosted by Raymond Arroyo (for show times and encore broadcasts
click here
, or visit this
youtube link
to view the episode. )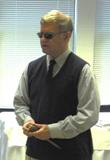 Steve Mikochik, NCPD Board Chair
On Friday morning, June 17, Professor Mikochik was interviewed by Teresa Tomeo on
Catholic Connections
AM radio show.
On Friday at 5:30 p.m. ET, the Executive Director of NCPD was also interviewed on Ave Maria Radio's program, Kresta in the Afternoon. Al Kresta's show is broadcast via EWTN Global Catholic Radio.
Lastly, the bishops' statement will be the basis for a national online webinar sponsored by NCPD on September 20, 2011 for diocesan staff, schools and parishes across the country entitled Threats to the Lives of People with Disabilities, Part II: Physician-assisted Suicide (see below in NCPD News and Notes).
Click below to see the following documents.
The Bishops statement, To Live Each Day with Dignity
The USCCB Press Release
The NCPD Press Release.
Comments affirming the Bishops statement at press briefing by Portland Diocesan Disability Minister Director and NCPD Board Member, Dorothy Coughlin
NCPD's 2008 Board Statement Against Physician Assisted Suicide
Reflection by NCPD board member Karen Murray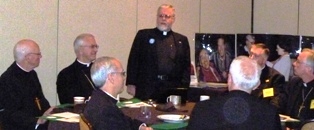 Fr. Sheehan of the Xavier Society for the Blind presents the bishops with Volume 1 of 45 of the New American Bible in Braille .
Earlier at the bishops meeting
NCPD co-hosted a breakfast for bishops, along with leaders from other Catholic disability organizations, (NCOD, NAfIM, and Xavier Society for the Blind), and shared information about access to faith for Catholics who are Deaf or disabled, as they impact the strategic plans and priorities of our bishops.
16 bishops were in attendance, and were greeted by Daniel Cardinal DiNardo, NCPD's Episcopal Moderator, and Bishop Michael Driscoll, NCPD's longtime board member. We thank Cardinal DiNardo and Bishop Driscoll for sharing with their brother bishops their commitment to people with disability and the impact NCPD has made on the Church.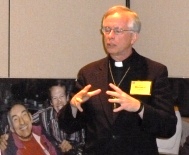 Bishop John Brungardt of Dodge Citydescribes how NCPD helped the Diocese of Wichita, KS.